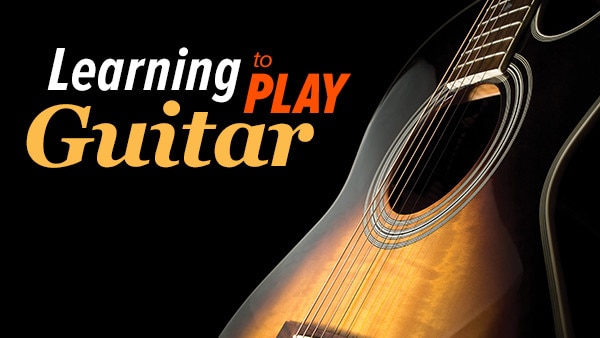 Many people want to learn guitar and they start by buying a Guitar and try to learn by themselves. But learning the guitar without a proper teacher is very difficult so many people within a few weeks or months leave it. Joining a music class is very costly and most people cannot afford it so many students try to learn it online on YouTube. Many people try to learn from their friends but as it is not a structured class end up in frustration and cannot learn or they take a longer time to learn it.
The best way to learn guitar is to follow an online structure class available at a very reasonable price to you and you won't have to pay very much but you can learn from beginners to advanced in very little time. Online Classes are very professional and are taught by very experienced teachers who have taught thousands of students in many years of profession. Enrolling in an Online class gives you the flexibility to start when you get the time and learn at your own pace. So, if you are working professionally and you won't get any fixed time to learn you can take advantage of online tutorials.
7 Best Online Guitar Courses in 2022
In this article, I have mentioned Best 5 Guitar Classes that you can take online. Most of the Courses will take you from complete beginners to professionals, and some will teach you Guitar in a short time. If you want to learn Guitar as a profession or for a Hobby then these tutorials will help you to achieve your Goal. We will discuss each of the courses in detail and you can choose which course matches your criteria. So, let's check out our awesome list of Guitar courses.
This is an All-in-One Guitar Course with a proven Step by step approach to teaching. It's more than 40 Hours of Content that will take you from beginner to Advanced in Different types of Guitar. Learn the most Logical Step-by-step Methods to Play Songs and Master Chords, Scales and Guitar Theory and Exercises That Will Sharpen Your Chord Transitioning, Strumming, Fretting, Picking, and Fingerpicking. Erich Andreas is the instructor of this course who has 40 years of professional experience in Guitar and more than 100 Million Views on Youtube.
This Course has been taken by more than 200,000 students and has an overall rating of 4.6 stars. This is laid out in a no-fail order so all you have to do is follow the videos in order and practice as much as possible. Erich will teach you the correct techniques and exercises to incorporate into your practice so you begin to establish the Right Practice habits. The best part of this course is you don't need any prior knowledge of the guitar. This course is available on udemy at a one-time fee of about $10.99 the price can vary by country to country.
Duration: 40.5 Hours
Rating: 4.6 out of 5
Course Link: Signup Here
Most guitar players feel lost and have no idea where to start and many of them get confused or discouraged because of all this information about chord shapes, intervals, triads, major and minor scales, scales variations. Many people are struggling to play guitar for a long time and not getting anywhere because you can't make up your mind about how and where to start.
After joining this course you don't have to imagine anymore this course will take you to step by step through all the elements needed to take you zero to hero in Guitar. Now if you're tired of searching through YouTube to only find lessons that are too hard for you or that aren't structured and you just don't know which way to go next and you're looking for a step by step structured class this is exactly what you're going to be getting here.
The instructor is going to take you by the hand step by step and note by note and he is going to teach you everything that you're going to need to know in order to play guitar with ease. Hw is going to be teaching you all about different guitars and the gear that goes along with the guitar's different strings cables slides all that good stuff. So this master class is really going to give you everything that you're going to need to know in order to really make serious progress and have a lot of fun on the guitar. You can always come to find what you're looking for and to make fast progress with ease.
Duration: 12.5 Hours
Rating: 4.7 out of 5
Course Link: Signup Here
Master Guitar course focuses on lessons for students to get them quickly from the ground to an Intermediate & advanced level. The instructor will take you from absolute square one and give you a comprehensive understanding of the guitar as we cover chords, scales, soloing, power chords, fingerpicking, strumming, rhythm, and much more. This course will be fun as you will learn by taking real songs from rock to country, blues, modern alternative, and more into practice. In this course, you will not learn from only teachers but 8 Different Teachers will give you their own personal insight and experience. At the end of the lesson, you will be given an overview of the material to practice each day so that you can accelerate your learning.
Although many students won't be able to complete the lessons in 90 days and it's ok as you can learn at what pace you want as there are enough content and material in this program to substitute 1 year or more private guitar lessons.
Duration: 25 Hours
Rating: 4.5 out of 5
Course Link: Signup Here
This is a complete guitar lessons course for all guitar levels – beginner to advanced with 30+ Hours of video lessons. These guitar lessons start at the very beginning, assuming that you don't know how to play at all. You can use any of the 6 string guitars in this tutorial. You will learn Chords – Including open & barre chords in multiple positions, relative (scale chords), extended, altered, naming, & more. Arpeggios – From basic major & minor to extended & altered, some include multiple redundant positions for better guitar mastery so you can easily solo using arpeggios over every chord. Rhythm – Including reading, writing, counting, strumming, picking, tapping, timing, and all things rhythm guitar. Scales & Modes – Including major & minor pentatonic, major & minor scales, all 7 relative modes, full-fretboard soloing, & other exotic scales.
The Complete Tutorial is divided into 10 sections each focusing specifically on unique topics with a PDF of the live recorder class. The JAM ALONG section includes 10 videos, each with a PDF, of live-recorded jam along with guitar loops for you to use while you practice soloing. The keys and scales are clearly marked & charted out on the whiteboard (and the PDF attachments) so you'll know exactly what to play!
Duration: 30 Hours
Rating: 4.7 out of 5
Course Link: Signup Here
It's only an electric guitar course and focuses on playing electric guitar. Learn how to master the fretboard in a very very easy and effective way So that way you're going to have learned in a way that you can digest and where it kind of progress. You going to take you to step by step in digestible pieces so that way you're always going to know exactly what you have to be practicing and you're going to slowly based on mastering that lesson get the next lesson. it's very very structured and it's very building. So Instructor always helping you build on the blocks and the foundation that we already laid.
The teacher also has tabs for all of the song lessons we're going to be learning the styles of some really popular legendary songs and we're also going to be learning some really cool licks because I'm going to be teaching you to play solo guitar as well. And what you're going to be able to do there is download the tabs and then again go to that play along and be able to play along with him.
Duration: 12 Hours
Rating: 4.6 out of 5
Course Link: Signup Here
The beginner's course teaches you how to play all of YOUR favorite songs + 36 shortcuts, hacks, tips & tricks. This course is created by Cooper who is a Master in Guitar with about 45000 students already took his course on Udemy. Its been highly rated with 4.6 stars out of 5 by his students. Have you ever started learning guitar but never really made it to the point of actually being able to play songs. Imagine a time in the future. Let's say one month from now when you can simply pick up a guitar and play any of your favorite songs on it in a smooth and fluent way as you imagine yourself playing you feel a smile on your face and you see the friends around you smiling as well singing along. Astonished with your new skills and surprised you got there so quickly so after having learned the guitar on my own in the decade later having over sixty thousand people who have successfully learned from my courses I am certain that I have the quickest way to get you to where you want to go and that you would also be delightfully surprised by how easy guitar can be when it's learned in a smart way how we will actually do it.
We will not be wasting time and we will jump immediately the practical tools that you need in order to be able to take any of your favorite songs from the songbook or from the Web site and bring it to life in a beautiful way. It sounds just like the original song or in any other way that you want it to sound like waking up to the mic make we can sleep. We can't close. You will learn the fastest ways to master and ingrain new chords into your fingers. You will learn how to effortlessly switch between chords so playing songs would really be a breeze for you. You will learn how to always figure out the correct strumming pattern for any song which is a major sticking point for all guitar players in their first years. You will also get a variety of printable songbooks which will literally fill your life with thousands of hours of fun.
Duration: 12 Hours
Rating: 4.6 out of 5
Course Link: Signup Here
Chuck Mylar created this course specifically for the person who hasn't done a lot of strumming. They might know a couple of chords or they don't know any chords and we bring that person all the way from the beginning using really simple strumming patterns and then graduating them to do intermediate strumming patterns and we use a lot of different genres of music. We don't focus on just this strumming pattern but we get to play it with musicians and real-time in this course. Once we get through that intermediate level then I have a host of advanced strumming patterns for us so that we can make our guitar sound like a drum and add percussive effects to it.
Then we continue on into really really advanced types of strumming patterns. It should be everything that you need to know to get yourself from somebody who's just starting as a guitar player to the end where you're playing really really advanced stuff that you can play on a stage that you can play in a band that you can play professionally. So if you're ready to start learning some strumming patterns then let's get started.
Duration: 32 Hours
Rating: 4.5 out of 5
Course Link: Signup Here
Top Online Guitar Courses on Udemy
We have discussed the courses you can enroll in for learning guitar. Most of the courses are from Udemy.com which is one of the best online learning platforms. The courses on Udemy priced very low with discounts and you can get any course under $10 to $20. All course comes with 30 Days money-back guarantee and lifetime access to the courses you buy. Udemy coupon for Guitar course is integrated into the links So, the best offer is automatically applied. Just go to the course page and buy it for about a 95% discount.
| | |
| --- | --- |
| Courses | Price |
| Complete Guitar Lessons System – Beginner to Advanced | $11.99 |
| Ultimate Beginner Guitar Masterclass (2020 Update) | $10.99 |
| Master Guitar In 90 Days: Step-By-Step Lessons For Beginners | $12.99 |
| Guitar Lessons for the Curious Guitarist | $9.99 |
| Ultimate Beginner Electric Guitar Masterclass (2020 Update) | $15.99 |
| Play YOUR Favorite Songs: The Guitar Super-Course | $14.99 |
| MASTER GUITAR STRUMMING – Strumming Patterns for the Guitar | $19.99 |
The Price may Vary from country to country and any price below $20 is reasonable and you should buy it without any doubt.